0 to 60mph in your imagination!
Jessica Jeap is a comedy clown car capable of appearing at any event, from family fun days to product launches, running completely on her own battery power so is available for use indoors and out. Although please do not be misled by the use of the term running. Jessica Jeap is not a comedy car designed for speed.
The Comedy Clown Car
Jessica Jeap would be useless as a taxi being barely big enough for the driver.
Comedy Car Clown Show
Book the amazing Jessica Jeap comedy clown car show as the ideal family arena act. Including slapstick, comedy, stunts, runaway vehicle and clowning.
For Outdoor Fun Days
For outdoor fun days this cute comedy clown car show is always a great attraction. Jessica Jeap looks like she drives herself with the use of remote control also activating water jets and horns. Classic clowning stunts for all the family.
Highly Skilled Jessica Jeap's Entertaining Performance
A highly skilled and entertaining timed presentation. Provides an action packed routine of hilarious situations and exciting feats with this comedy clown car.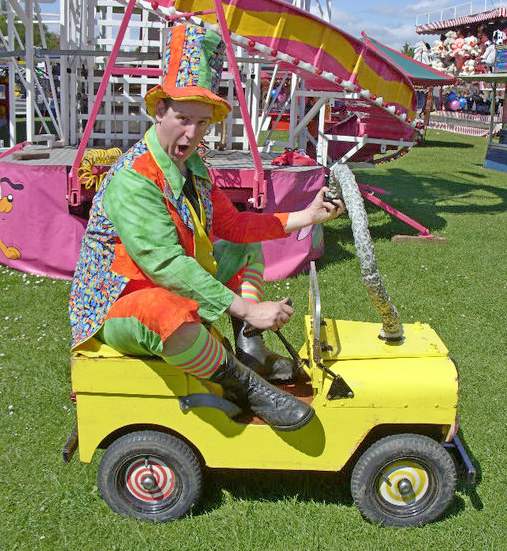 Full Commentary Throughout
Full commentary throughout the show is provided by radio mike. Jessica Jeap comedy clown car show is an extremely hilarious sketch with non-stop series of laughs from spills and thrills as regular as clockwork, this is zany comedy for all the family.
If you are looking for a children's entertainer for a family fun day or a children's show for corporate entertainment such as a town centre act or a professional shopping precinct performer then Jessica Jeap comedy clown car is the perfect act. Based in Scarborough, North Yorkshire the act has performed nationally, with a list of previous clients available for your perusal and is available throughout the UK at very competitive costs.
The Opening Of The Performance
The show starts as the clown drives around the arena perched on top of Jessica Jeap with much waving of hands and blasts from the clown car's air horns. Then the comedy car grinds to a halt so the clown gets off Jessica to investigate asking for help from an audience volunteer. A spring snake shoots out of the comedy car's radiator as part of a impromptu sketch with interaction from the audience. This routine ends with the child volunteer offered a ride on the comedy car as thanks. Next the clown car drives forward on its own chased after by the clown. As the clown catches up with Jessica Jeap the car slams into reverse and sets off in the opposite direction.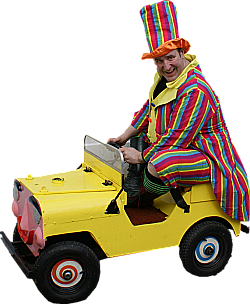 Water Works
Eventually the car is cornered but as the child tries to get aboard there are blasts from the air horns where ever the child touches the car. At last the child sits behind the wheel and Jessica Jeap jaunts forwards and backwards irrespective to the child's action driving in front of the audience. Soon water squirts from the back of clown car. After this hole is blocked by a child's finger the water begins shooting out of the comedy car's bonnet. When the child moves from the back of Jessica Jeap to the front and plugs the hole in the car's bonnet the water comes out of the rear again. This slapstick routine is repeated.
Anyone searching after entertainment for children at a fun fair or a family show for public relations exercise like street theatre performance or skilled retail outlet act then this clown car, Jessica Jeap is the ideal comedy routine. Despite living in North Yorkshire on the east coast at Scarborough this show is ready willing and able to work across the country at reasonable rates.
Jessica Jeap's Comedy Clown Car Arena Show Technical Requirements
It is preferable to park the towing vehicle and trailer alongside the arena. This means the comedy clown car unloads in a 'Safe Area'. Thus the comedy clown car's route to the arena in not through the crowd.
The absolute minimum for an arena is a roped off area (rope and stakes can be supplied but advanced knowledge is required). Ideally metal crash barriers around arena. Minimum arena size for comedy clown car show 20feet by 20feet.
Comedy clown car static display show is available for venues with smaller areas.
Comedy clown car show comes with radio mic and receiver enabling patch-up link into an existing arena PA system.
If known in advance arena amplification can be provided.
For any variation on the above do get in contact or for parade work also.
The van and trailer are 36feet long. Enhanced disclosure from the Criminal Records Bureau, £10,000,000 public liability insurance through membership of Equity, the electrical equipment has undergone an in-service inspection and testing (formally referred to as PAT, Portable Appliance Test), method statement and a rolling risk assessment for the act are available on request.
Recommendations
I just wanted to say a huge thank you for Megan's party, she had such a fantastic time and several parents have said how much they enjoyed it too! It was amazing how you kept all the childrens' attention and it was lovely to see them laughing so much. If you're ever over this way again for any public functions, such as East Park, let me know as we would love to see you again!
Many thanks,Vicki Shaw,North Ferriby
Just wanted to say thank you very much for Saturday at Immingham. It worked well and you worked well. Your extra efforts were much apprfeciated and we will be back for more dates.
Bernard Bale, Bee Line Media